Reading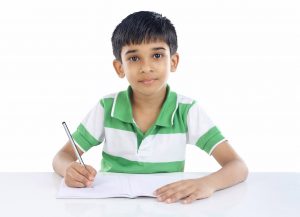 Early literacy skills are a focus with all clients receiving language therapy, as research shows that there is a high correlation with early language development issues and challenges with later literacy development.  Phonemic awareness, sequencing, and word retrieval skills provide a foundation for further literacy learning.  This progresses to learning the six basic syllables that compose most of written English in order to teach patterns of English orthography for decoding.  Practice with grammar, critical reasoning skills, Latin and Greek morphemes, sight words, and spelling patterns is emphasized at higher levels.  We use a variety of materials and programs in support of these goals, with an overall eye on fluency and high-level comprehension in reading.
Writing & Spelling
Written language requires a complex set of skills, including graphomotor, language formulation, phonemic awareness, and sequencing, among others.  A program of remediation for written language may include: 1) the development of grammatically-appropriate, descriptive, complex sentences, 2) the ability to sequence sentences appropriate to effectively communicate ideas, 3) planning longer-length assignments that are cohesive, succinct, and well-developed, 4) the ability to change writing style and structure to suit a variety of purposes, and 5) the ability to edit for both content and structure.  For older students, we often work explicitly on formulating a thesis statement, finding and incorporating evidence to support this statement, and drawing conclusions.  Students often bring outside written work into our sessions.
Math
Our work with mathematics involves the intersection of the language of numbers and verbal language.  Ensuring understanding of basic quantity concepts, estimation, comparisons, operations, and story problem strategies are common goals.  We work to establish conceptual understanding of early math skills and connect that understanding to the language used in math to boost client achievement and confidence.